Hello everyone,
We are now officially going through the half of the year and I am ready to read all these four books below to continue with my reading challenge.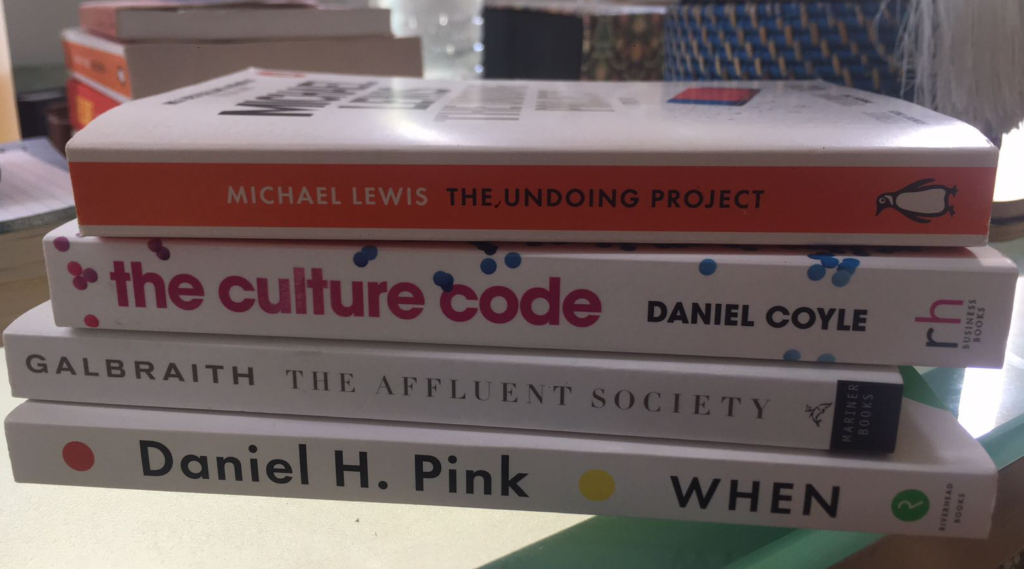 Reading List:June 2018 
The Undoing Project by Michael Lewis
Genre: PsychologyComment by Brina on Goodreads on 30th November 2017While economics usually bores me, I decided to read this book anyway. If Lewis is capable of making baseball appeal to non sports fans, then he can also make behavioral economics and psychology accessible to a person like myself who is either finds the subject matter dull or tedious. As with the other Lewis books I have read, I was not disappointed.Rather than jumping straight into theories on economics or psychology, Lewis chooses to open The Undoing Project with a reference to Moneyball, followed up with a chapter on how a psychologist with no sports background became an NBA general manager in charge of selecting potential players in the draft. Sports is not the first thing the average person evokes when discussing economics, yet, opening with a discourse on basketball immediately makes a difficult subject accessible to the average person. Yet, Lewis is not just discussing basketball. He offers psychological scenarios as to what people think of when they think of an NBA player. Usually that person is over six feet tall and athletic. Yet, in this situation, the general manager was also searching for players with good character and who respond favorably to a battery of questions. Lewis with this chapter put me in a positive mind frame to read about an otherwise tedious subject matter.Amos Tversky and Daniel Kahneman were the least likely of friends. Both were among the pioneers of the new nation of Israel, Kahneman surviving the atrocities in Europe and Tversky born a sabra (native Israeli). Tversky was always the most popular and the life of a party whereas Kahneman was a natural introvert who barely felt comfortable in their own skin. After participating in wars at the formation of the Israeli state, both their paths eventually lead them to the psychology department at the brand new Hebrew University of Jerusalem. Kahneman leaned toward behavioral psychology whereas Tversky favored the mathematical aspect of the science. Despite being polar opposites in personality, their brilliant minds lead them to each other, and by the 1960s they began to collaborate on a series of game changing papers. The duo began to think as one mind and often could not remember who came up with each idea. The partnership was a match made in heaven, and for Kahneman, Tversky, and the science behind psychology, four decades of Undoing Freudian psychological theories would ensue.Lewis alternates biographies of Kahneman and Tversky with the scientific data of their findings that eventually lead Kahneman to win the Nobel Prize in Economics. The majority of economists, according to Lewis, look down upon psychologists as inferior to them; however, Kahneman and Tversky over the course of their joint careers published findings that could not be ignored by either field. Listing four heuristics, the psychologist team set out to change the way people think about a series of outcomes. Lewis cites various positive and negative gambling scenarios and writes in a way that even those not versed in economics can understand his writing. The psychologists may have posed their original questions to graduate students and doctors, but in this book, these questions became accessible to the average reader. I was especially interested in knowing that these findings benefitted medical doctors, NBA general managers, the US free lunch program, as well as the Israeli Air Force training program. The most commonly cited finding in a variety of forms was A over B, C over A, then why in the end do people select B over C or A. These behavioral findings that were revolutionary in the 1970s are now the basis of a widely studied field called behavioral economics, which was the result of this unique partnership.Michael Lewis himself has an advanced degree in economics. He actually had the opportunity to teach Tversky's son without knowing who he was. He has made a variety of timely economic issues accessible to the average reader in a way that is both engaging and even humorous. I found myself being enthralled in behavioral theories and actually would be interested in reading Kahneman's Thinking, Fast and Slow even if normally this is not a topic that interests me. While Moneyball is a special book, Lewis' writing on economics and other money matters has explained complex issues in a way that is engaging and informative. A gifted writer and economist in his own right, I look forward to reading more of Lewis' works in the future.
The Culture Code by Daniel Coyle
Genre: Business, Leadership
This is a nonfiction book that explores how groups succeed achieving their goals. It describes the characteristics of successful groups in different fields including sports teams and corporate environments. A good book to read for anybody in management positions or people that have to work in groups or teams.
The Affluent Society by John Kenneth Galbraith
Genre: Economics
It is a must read list book in Eton College. It is a classic text on the 'economics of abundance', lays bare the hazards of individual and social complacency about economic inequality. Why worship work and productivity if many of the goods we produce are superfluous – artificial 'needs' created by high-pressure advertising? Why begrudge expenditure on vital public works while ignoring waste and extravagance in the private sector of the economy? Classical economics was born in a harsh world of mass poverty, and has left us with a set of preconceptions ill-adapted to the realities of our own richer age. And so, too often, 'the bland lead the bland'. Our unfamiliar problems need a new approach, and the reception given to this famous book has shown the value of its fresh, lively ideas.
When: The Scientific Secrets of Perfect Timing by Daniel Pink
Genre: Psychology, Business
Drawing on a rich trove of research from psychology, biology, and economics, Pink reveals how best to live, work, and succeed.How can we use the hidden patterns of the day to build the ideal schedule? Why do certain breaks dramatically improve student test scores? How can we turn a stumbling beginning into a fresh start? Why should we avoid going to the hospital in the afternoon? Why is singing in time with other people as good for you as exercise? And what is the ideal time to quit a job, switch careers, or get married.
June is a month of big changes and very exciting starts for me! Keep following!
All the best from Singapore.
Sukru Haskan
Twitter: @sukru_haskan