Dear Readers,
My reading challenge is going quite well and I have finished 14 books in 2018 so far. I must say I am really enjoying each of the book very much.
During the month of March, I have decided to make a major change in my life and it had a little impact on my reading speed, but I am still ahead of the schedule.
I will be sharing more details about this exciting change of my life in the coming months with you!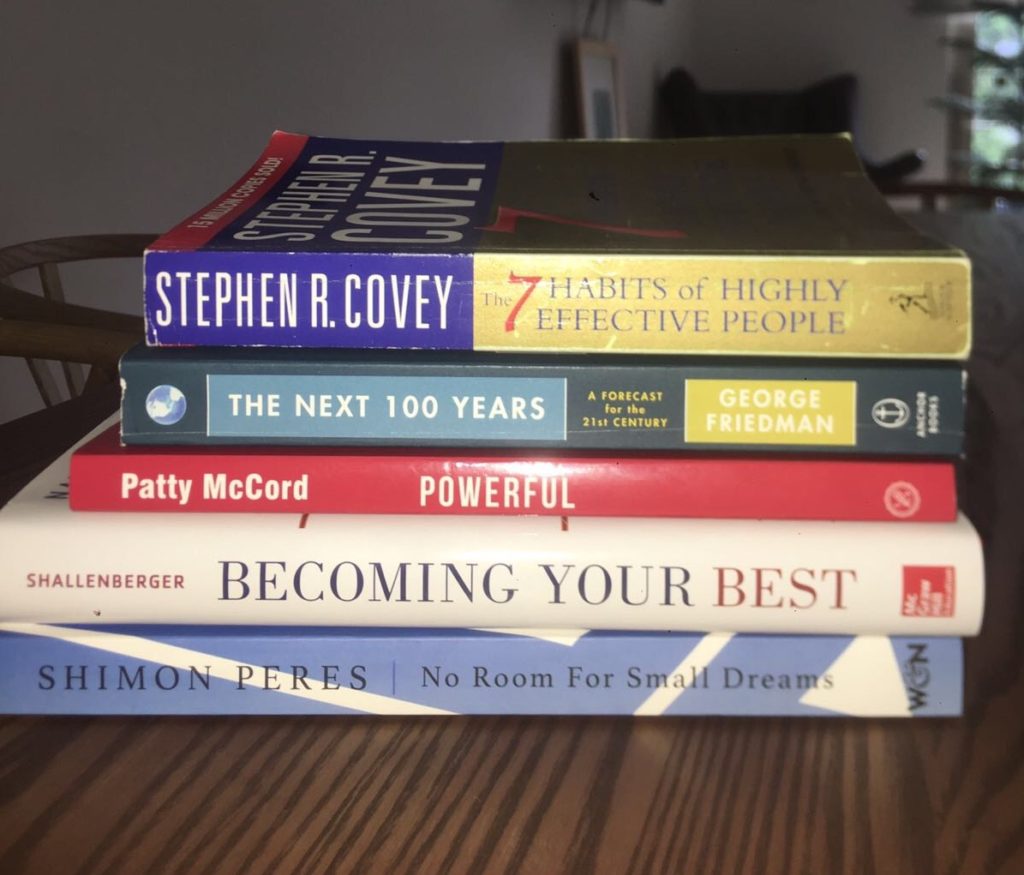 Reading List: April 2018 
The 7 Habits of Highly Effective People by Steven R. Covey
Genre: Personal Development, Leadership
In his book, Steven Covey shares seven habits of highly successful individuals in the spectrum of life such as being politician, businessmen, and philanthropists. This book is an invaluable source of information who would like to achieve more in every single day! I would not take this book as a book to read and leave in your library for the rest of your life. It is a book which has to be revisited several times during our lives. Steven believes private victory in our lives leads us to be independent, but not sufficient by itself and prepares us for the next and the real victory: public victory which is interdependence.
No Room for Small Dreams by Shimon Peres
Genre: Autobiography, History
Shimon Peres, 9th Israeli president and Nobel Peace Prize winner in 1994, passed away in September 2016. Just before he passed away, he finished his last book which gives a lot of insights about Israel's foundation, relationships with Western countries and his personal life. Recommended by Shimon's son, Chemi Peres, I would like to thank him for bringing this book into my attention.
Powerful by Patty McCord
Genre: Business, Leadership 
Patty McCord, ex-Chief Talent Officer of Netflix, shares a lot of insights about talent management in her book. Given she has worked in Netflix, Pure Atria and Sun Microsystems for many years, she compares conventional HR applications versus innovative ways of recruiting new staff as well as building a culture of freedom and responsibility. In her book, Patty McCord argues why abolishing conventional corporate policies such as expense and travel and giving freedom and responsibility to employees enhances performance.
The Next 100 Years by George Friedman
Genre: Politics, History 
George Friedman is a writer, not a fortune teller, but he tries to be provocative us by forecasting what could happen in the rest of the 21st century in this book. Imagine China fragments in 2020, a global war between the new great power of the world – US, Turkey, Poland and Japan in 2050, and Space based Energy powers earth in 2080.
Becoming your Best by Steven Shallenberger
Genre: Personal Development, Leadership
During YPO (Young Presidents' Organisation) event held this year in Singapore in March 2018, I came across Steven's booth and I was introduced to his books. In his book, Steven Shallenberger discusses about 12 principles of Highly Successful Leaders as opposed to seven habits discussed by Steven Covey. There would be some overlaps between Steven Covey's and Steven Shallenberger's book, but I think they would be complementary to each other.
All the best from Singapore.
Sukru Haskan
Twitter: @sukru_haskan