After reading Yuval Harari's book, Sapiens: A Brief History of Humankind early this year, it was almost impossible not to read his next book, Homo Deus: A Brief History of Tomorrow as soon as it is published and I can get it.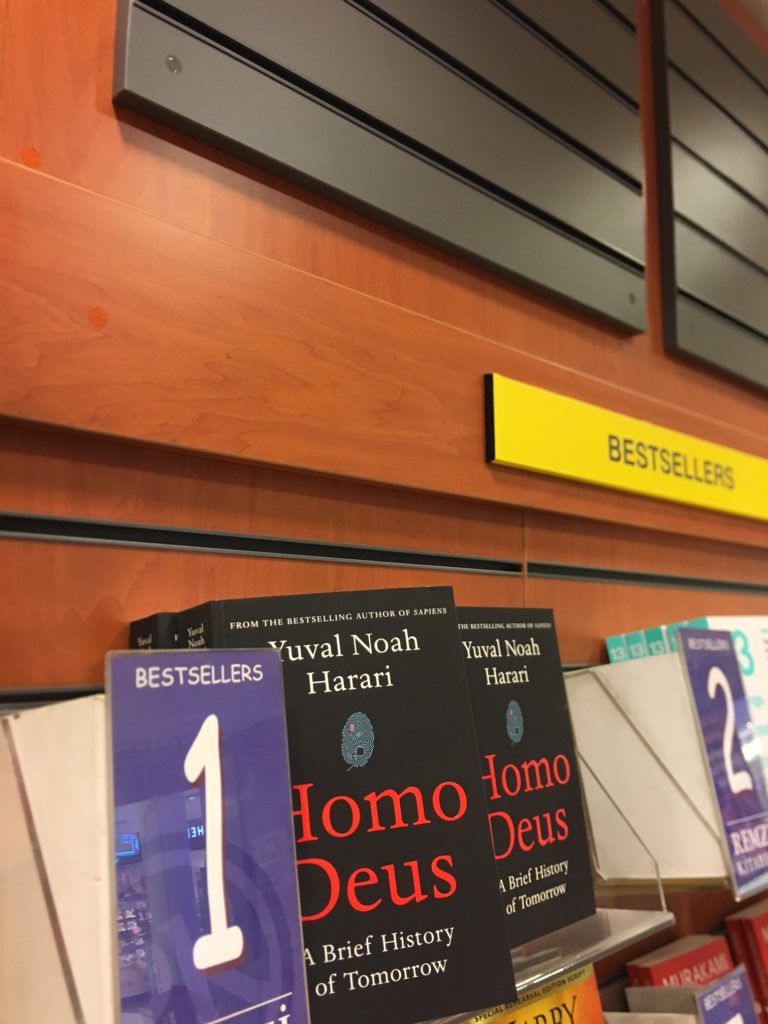 Homo Deus is the second book written by Harari and talks about the future of mankind. Since Deus is "God" in Latin, he argues in his book that a new religion called Dataism to raise and humans will not need gods anymore since we will very accurately predict what will happen or who will do what by the help of gather data.
The book starts with striking statistics about the past and the present. Almost three million people–15% of the French population–starved to death between 1692 and 1694.  Today, more people are dying of diabetes, which is linked to being overweight rather than a result of starvation.  According to Harari, in 2014 more than two billion people were overweight compared to 850 million who suffered from malnutrition. Half of humankind is expected to be overweight by 2030.
Some of the quotes from the book that I really liked:
"Sugar is more dangerous than gunpowder"
"We don't become satisfied by leading a peaceful and prosperous existence. Rather, we become satisfied when reality matches our expectations. The bad news is that as conditions improve, expectations balloon"
Does the above quote remind you of someone?
"Historians don't ignore objective factors such as climate changes and genetic mutations, but they give much greater importance to the stories people invention and believe"
Like in his first book, Sapiens: A Brief History of Humankind, in Homo Deus Harari emphasizes the power of stories whether they are true or not. Actually my interpretation is; the less likely they are true and superficial, the more likely the people will listen.
Another point Harari argues is that humankind's definition of knowledge has kept changing since the Agricultural Revolution. We were simple creatures during this time, so knowledge for reading the scriptures and applying and applying our logic.
"Knowledge= Scriptures x Logic"
Then the Scientific Revolution came and everything focused on collecting data and trying to find meaning for the gathered data.
"Knowledge = Empirical Data x Mathematics"
Finally in 21st century, as much as we are confident about ourselves, we care more about our life experiences and our sensitivities.
Another provocative fact that Harari argues is that there is no free will, and that free will can be manipulated. With the help of technology and data, machines know much better than what we will do or choose. Harari argues that companies are using this to manipulate us. In other words, Harari says what you think you want to do may not be really what you want to do.
He strengthens these points in the following sentence: "We are about to face a flood of extremely useful devices, tools and structures that make no allowance for the free will of individual humans"
Fascinating and provocative! Isn't it!?
Harari also argues "In the 21st century we might witness the creation of a new massive class: people devoid of any economic, political or even artistic value, who contribute nothing to the prosperity, power and glory of society"  I personally did not get this point. Since societies are manipulated, how can they have this massive new class?
Some other provocative thoughts in the book are about collecting personal data.  Harari states "In the 21st century our personal data is probably the most valuable resource most humans still have to offer, and we are giving it to the tech giants in exchange for email services and funny cat videos"
"After 300 likes, Facebook algorithm can predict your opinions better than your husband or wife!
Yuval Harari is a young and great visionary writer. He definitely make my 2016 and led me to think as well as learn a lot!  He offers great opportunities for readers to think and learn. Harari's Homo Deus is highly recommended.  His first book, Sapiens: A Brief History of Humankind is suggested as a prerequisite to Homo Deus.
I believe he will be in Istanbul on January, 25th which I am planning to fly and meet him in person!
Best Regards from Singapore.
Sukru Haskan
Twitter: @sukru_haskan