Since I was expecting my baby, we had been unable to travel around much over the last month, and it is not easy to travel with a newborn.
The desire and intention to travel has been always there for our family so we decided to go for a quick weekend getaway to Bintan Island in Indonesia.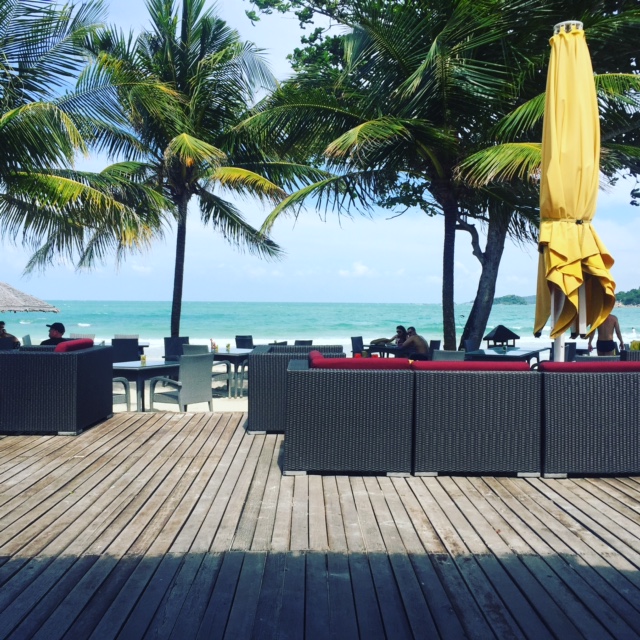 A lot of my visitors in Singapore ask me where they can go from Singapore easily. This is the easiest option to travel from Singapore, since it only takes 45 minutes by boat to reach the island.
I booked the ferry tickets through Bintan Resort Ferries (www.brf.com.sg). The booking process was a bit complicated, as the website requests all passengers' passport numbers, passport expiry dates, etc.
I had been to Bintan in September 2013 where we stayed at Bintan Lagoon Resort and we were not happy with our experience. The property was old, the breakfast was awful and it was overpriced.
Bearing in mind the previous experience, I booked the Angsana Hotel for this visit.
The ferry leaves from Tanah Merah ferry terminal, which is very close to Changi Airport. The immigration process is fast and smooth at the ferry terminal. We took the ferry out at 08:10 am and luckily we found a good spot on the ferry as we needed mobility because of the baby.
After almost an hour, we arrived at Bintan. Among the changes since our previous trip, Indonesia has initiated visa free travel to many nationalities, including those with Turkish and British passports. Before, there was a visa check on arrival and you would need to buy a visa for USD 15. Getting the visa was easy, but the queue and securing the exact USD 15 was a bit of a hassle.
Once we were through immigration, the hotel had arranged a complimentary transfer from the terminal. Angsana is only ten minutes away from the terminal, which was great.
The hotel is in an old complex and has a friendly staff. It has a long private beach and is situated just next to the Banyan Tree. We were able to access our room before the standard check-in time and headed to the beach, where there is a nice restaurant.
The menu is quite simple there but the food is good. Unfortunately, like anything in Bintan, it is very overpriced, though.
The hotel provides beach chairs along the beach, with towels. Even though the sea in Southeast Asia is not my favourite, given that it is hot and not crystal clear, it is nice to lie in front of it and relax.
We visited the Saffron restaurant—which is inside the Banyan Tree—for dinner. I should say the highlight of this trip for me was this restaurant. Perfect food, nice ambience and great service.
Even though we had some small communication problems at Angsana Hotel, I would say they are fairly friendly and do try their best to make sure you feel comfortable. On the way back, they arranged a private transfer for us to the ferry: since we had our newborn with us, it was a great gesture.
In Bintan, everything is overpriced. Proximity to Singapore and an easy tropical escape make the place popular so the prices are high! Once every two years, though, it is a good place to visit.
If you are visiting Singapore, I would recommend that you spend two or three days in Bintan.
All the best from Singapore.
Sukru Haskan
Twitter: @sukru_haskan