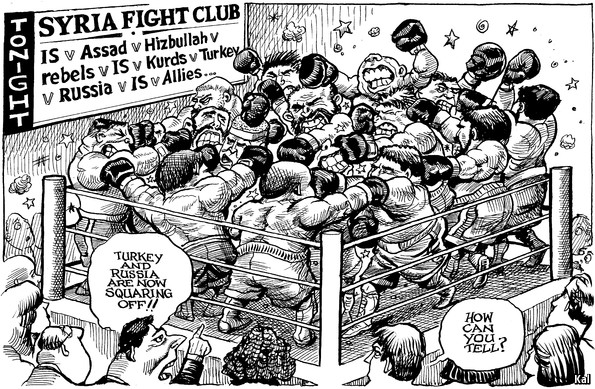 The war in Syria has been going for some time now.
Imagine there were no refugee crisis: would this kind of large scale crisis have bothered the developed world then?
The refugee crisis diverted attention to Syria as refugees started flocking into European territory through Turkey, and all of a sudden Europe had to welcome millions of refugees.
One should look at the root of the Syrian problem by looking into history. After the collapse of the Ottoman Empire, the British and French ruled the Middle East for a short period of time between 1923 and 1946.
Syria—built on the multi-ethnic, multi-religious/sectarian and, more importantly, the ethnic and sectarian differences of the administrative structure—has complex internal dynamics controlled by the collapsing authoritarian structures, which has resulted in a drift towards chaos and disaster.
In other words, Syria is a made up country where a line was drawn in the sand by the French to show its borders.
Even after 1946, France controlled minority groups in the country while Russia always kept Syria at arm's length to have direct access to the Mediterranean Sea. As a matter of fact, Basher Asad's father Hafez al-Assad allowed the Soviet Union to open a naval military base in 1971.
Currently many different parties are fighting in Syria and using the country as a place to exercise their own government policy. In brief, here is each country's agenda.
Russia wants to make sure that it continues to access the Mediterranean through Syria.
Israel does not want the regime to change to an Islamic government where its sovereignty could be threatened through Golan Heights, as Syria is a neighbour of Israel.
Iran wants to make sure that the Shia population continues to live in the region peacefully.
Turkey generally believes that the northern part of Syria belongs to Turkey and there is a fear of a Kurdish state being built there.
France wants to continue to enjoy some privileges and have cultural and economic influence over the country.
The USA has become more serious about Syria since Russia officially got into the game. As there are no really significant natural resources there, such as oil, the US had no interest in the country in the beginning.
Saudi Arabia is flexing its muscles against Iran. Bear in mind what is going on in Yemen right now.
We have the Iraqi example from recent history in the region. After the war, stability could not be secured in the country, and therefore the transformation process is still in progress with no real deadline.
Elected governments must always be respected in any part of the world. For this reason, a secure election is needed in Syria to bring about a transformation. I personally do not see transformation without Assad, as there is no real counterparty other than Assad.
Would you like to deal with Free Syrian Army, YPG, Daesh or someone else as a counterparty or at least a somehow elected government?
Russia is definitely a game changer in the Syrian issue. The country's involvement has only made a complex issue even more complex. There are a lot of questions and answers to be agreed upon unless we can move towards a solution in Syria.
What should happen to Assad?
How can we create a path for the immigrants going back to Syria after the war?
Will some groups that are fighting in Syria today get some concessions after the war?
Syria is now exporting terror to the outside world—Jordan, Lebanon, Turkey and Europe. The issue has to be resolved sooner rather than later.
These questions are complex questions with no definite answers. Only time will show us the outcome, and I hope it will not be a shameful landmark for humanity.
All the best from Singapore,
Sukru Haskan
Twitter@ sukru_haskan