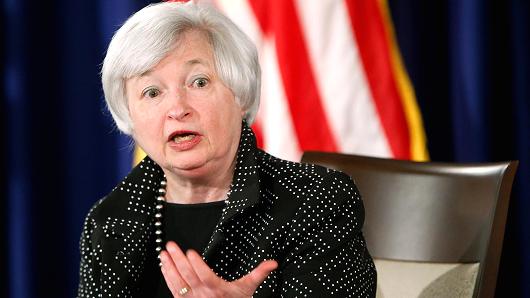 There is a FOMC meeting scheduled for next week and September, 17th is the date when Janet Yellen will hold a press conference. Everybody is waiting for that date in the financial sector as Janet Yellen will convey the decision on whether they will hike the interest rate or not.
For those of you without a finance background, FOMC stands for Federal Open Market Committee.
FOMC consists of 12 members and it holds eight meetings per year. September is one of the last three meeting dates for this year.
This invaluable group of people are responsible for designing the United States' monetary policy.
The last FED interest rate hike was in 2006.
Yellen, FED chairwoman, has indicated many times that they are data driven and not market driven.
The data are good. Unfortunately, the markets are not.
There has been huge volatility since early June. It started with Greece and now continues with China.
If Yellen delays the rate hike decision, it will once more contradict FED previous statements.
What happens when you contradict your statements continually?
You lose your credibility. 
And it is not good when you have competitors willing to replace you in the system.
Many will discuss that FED has a global role to stabilize the markets, I do not really agree with this point.
The fundamentals of different economies have recently changed dramatically.
The US is growing and its unemployment level is now back to pre-2008 levels.
In my opinion, we will continue to see divergent policies rather than convergent policies among central banks.
And it creates problems…
Why?
Because we got used to seeing convergent policies after 2008 and now that policies around the globe will be mixed, it will be harder to predict future moves in many markets.
There are many valuable economists and bankers that do not share my view.
A reputable columnist in FT, Martin Wolf, wrote an article this week entitled 'Keep rates low – the world is abnormal'.
Andy Haldane of the Bank of England said "The act of raising the yield curve would itself increase the probability of recession".
The World Bank has warned FED not to increase the rate as the world is not out of the woods yet.
Emerging markets will be affected dramatically by a rate hike. The rate hike will accelerate the outflows from emerging markets and it will create further turbulence.
This is an inevitable fact…
But some, surprisingly, are in favour of a rate hike.
Indonesian central banker, Mirza Adityaswara, is one of them. Another is Peru's central banker.
Unsurprisingly, Swiss National Bank is praying for a rate hike. They want to abolish their negative interest policy as soon as possible. They know that it is unsustainable.
No matter what the decision is, the time for a rate hike is coming closer and closer…
There is no escape!
We will shortly experience the end of the cheap money era.
And I think it will start on September, 17th…
Good luck!
Best from Singapore,
Sukru Haskan
Twitter: @sukru_haskan